2023 President's Meritorious Service Awards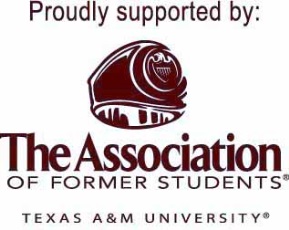 Texas A&M University President M. Katherine Banks presents these prestigious awards in recognition of outstanding staff who have demonstrated their commitment to the Aggie Core Values of Respect, Excellence, Leadership, Loyalty, Integrity and Selfless Service.
Each staff honoree receives a monetary award, a commemorative plaque, and a gold lapel pin.
University Awards Ceremony
The President's Meritorious Service Awards were presented at the University Awards Ceremony held on April 24, 2023. The ceremony celebrated the contributions of exceptional faculty, staff and students in academics, teaching, research and dedicated service across 11 award categories.
View the Digital Award Program.
Award Honorees 2023
Aggie Way
Alyssa Zarco
Admissions, School of Engineering Medicine
Kelley O'Neal
Byrne Student Success Center, School of Education & Human Development
New Employee
Alex Troyer
J. Mike Walker '66 Department of Mechanical Engineering, College of Engineering
Chandler Guardado Rivera
Enrollment Services, Aggie One Stop
Supervisor
Dr. Ashley Seabury
Research & Graduate Studies, School of Veterinary & Biomedical Sciences
Chris Court
Technology Services
Individual
Jose Arrisola
Technology Services
Chad Barger
Scholarships and Financial Aid
Trudy Krenek Bennett
Department of Veterinary Physiology and Pharmacology, School of Veterinary Medicine & Biomedical Sciences
Jen Bloom
J. Mike Walker '66 Department of Mechanical Engineering, College of Engineering
Florence Davies
University Writing Center, Academic Affairs
John Fellers
Environmental Health & Safety, Division of Operations
Andy Gibson
Transition Academic Programs, College of Arts & Sciences
Bethany Goodlett
Department of Medical Physiology, School of Medicine 
Noeline Gunasekara
Division of Human Resources & Organizational Effectiveness
Dr. Sarah Jaks
MBA Program Office, Mays Business School
Sherri Jerzyk
Veterinary Medical Teaching Hospital, School of Veterinary Medicine & Biomedical Sciences
Bradley Matthews
Career Center, Division of Student Affairs
Kristi Mejias
Athletics
Heather Miller
Graduate Programs, School of Law
Pamela Moncayo-Morales
Undergraduate Strategic Partnerships, Division of Academic & Strategic Collaborations
Jason Muchow
Rudder Theater Complex, University Center & Special Events
Michael Outland
Enrollment Services, Aggie One Stop
Melanie McKoin Owens
Student Life, Division of Student Affairs
Erin Pope
Immigration Affairs, Faculty Affairs
Dr. Jing Wu
Veterinary Medical Teaching Hospital, School of Veterinary Medicine & Biomedical Sciences
Team
The Tex-TRAC Team, School of Nursing
Leslie Kallus, Bobbi Naylor, Kayce Ward and Dr. Kim Zemanek
The Undergraduate Advising and Operations Team, College of Arts & Sciences
Jake Clough, Terri Ferguson, Christine Farris, Amber Greer, Julia Jakab, Antonio Knox, Allison Rivera, Roxanna Russell, Kaileigh Carter and Sara Thigpin

Resources
Questions