Everyone is a leader - you do not have to be a supervisor or manager to lead at Texas A&M University. Following the progressive leadership development framework, the Leading Self leadership development program helps university employees build foundational leadership competencies to enable a common language, practice, and culture across the university community.
Competencies Being Developed
The Leading Self leadership development program focuses on six competencies: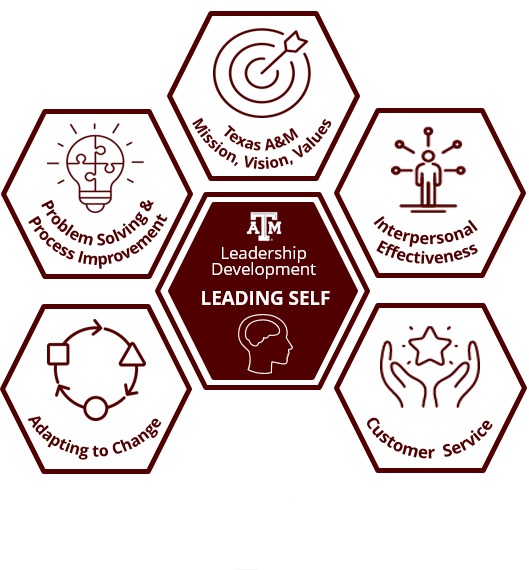 Enroll Today!
Enroll in the Leading Self leadership development program today! To enroll, complete these four steps:
Download and complete the Supervisor Approval Form.
Access the Enrollment Form and begin filling out the form.
Upload your completed Supervisor Approval Form to the Enrollment Form when prompted.
Complete and submit the Enrollment Form.
Enrollment forms are regularly reviewed. Employees will receive confirmation of their enrollment within three (3) business days, provided enrollment and supervisor approval forms are correct and complete. Enrollment and/or supervisor approval forms needing correction and/or completion will cause delay in the enrollment process.
Impact Thus Far
After completing the Leading Self pilot in Spring 2021, pilot participants:
Were impressed by and valued the progressive nature of the program - how activities and each competency tied together and built upon each other
Overwhelmingly agreed the program:

Is valuable, relevant to their job, and linked to business needs in enabling one's leadership
Would improve performance, enhance workplace relationships, and enable positive culture change at Texas A&M University

All would recommend the program to their peers and supervisors across the university community
Check out what pilot participants are saying below:
Cost: $1290 per Texas A&M University employee
Texas A&M University System employees pay a
Fee Differential
to participate in university programs.
Duration: At your own pace
Location: Blended
On-demand courses
Self-directed activities
Virtual courses
In person courses in College Station, TX
Enrollment: Enrollment form with supervisor approval
Enrollment Deadlines: 
03/01/23 (course date: 03/08/23)
04/04/23 (course date: 4/11/23)
05/04/23 (course date: 05/11/23)
05/26/23 (course date: 06/05/23)
07/20/23 (course date: 07/27/23)
08/17/23 (course date: 08/24/23)
09/11/23 (course date: 09/18/23)
10/16/23 (course date: 10/23/23)
11/08/23 (course date: 11/15/23)